It all began at Broughton Street Bookshop. You always tend to have a chat with customers in there. I was basically schmoozing the Edinburgh book dealers while remembering how to get around town on foot. One guy told me tales of the book trade and how he was interested in collecting material on the criminal case and history of local serial killers Burke and Hare. I logged this information into the memory banks and rambled on.
A few days later I am in a thrift shop over in Dalry on the west of the city. My mind is saying Lothian rambling books and natural history but the bookshelves are not playing. I noticed a title called Rest Without Peace which was almost slipping into the religious section this being a Bethany's franchise. I almost didn't buy the book being single-minded in my quest for walking books but it had a great dust jacket and was hardback and they only wanted a pound. I thought of the guy in Broughton Bookshop and how it might appeal to him. I mulled over the book some more and read the introduction. It was immediately intriguing in style and content and insisted that its accuracy would prevail over legend.  I read the inner jacket biography and it stated that the book was by an American author called Elizabeth Byrd who at that time lived in a cottage just outside Edinburgh. Local flavour? I like it! So I paid for the book and went home.
I must admit that once I committed myself the book turned out to be a rather good read! There is some strange relish over the killings and there is occasional reference to sexual activity without resorting to gratuity. One scene is a bit shocking and I wondered where her evidence for it was acquired. Artistic license lets the author go into unusual depth about Burke's testicular problem. The characters' addiction to "grog" is exceptionally vivid. I found myself licking my lips at their inability to even leave the house for another bottle when they dried out. I began wondering who this Elizabeth Byrd was. I suspected a commercial historical fiction hack but I so wanted to be proven wrong. Also there was a hint of the writer's particular character seeping into the work and it fair intrigued me!
So the search began and I found from Goodreads that there was a small profile.
Born December 8, 1912, in St. Louis, MO; died May 11, 1989, in Tucson, AZ; daughter of Joseph Hunter (a mining promoter) and Emma (Howard) Byrd; married Don Phares. Education: Attended New York University, 1932-33.
CAREER:
Columbia Broadcasting System, radio news writer, 1939-45; Station WMCA, script writer and actress on "What's News," 1942-43; associate editor for New York literary agencies, 1944-50; Betty Byrd Associates (literary agency), owner and operator, 1951-53; A. L. Fierst Literary Agency, critic, 1952-53; Julian Messner, Inc., writer of jacket copy, 1952-60; freelance writer.
In addition to her novels she wrote two short stories for Argosy in 1969- 1970:
* Gay Street Ghost, Argosy (UK) Jun 1969
* Try a Little Tenderness, Argosy (UK) Mar 1970
Contributor of articles and stories to Venture, Reader's Digest, McCall's, and Scottish Field.
Byrd had authored a few books including: Immortal Queen, The Famished Land, It Had to Be You, Maid of Honour, The Long Enchantment, Rest Without Peace, The Flowers of the Forest, I'll Get By, Ghosts in My Life, Lady of Monkton,The Search for Maggie Hare and Strange and Seeing Time. Mostly historical fictions with two non fiction works on ghosts and haunting.
Strange and Seeing Time was published in 1969 .
"Her book describes the time that she rented the East Wing of Leith Hall with her husband soon after they married in 1966. They rented 14 rooms… and soon met many of the ghosts."
So in 1966 she is in Aberdeen and in 1974 she is living in the village of Old Craighall outside Edinburgh according to the Afterword of Rest Without Peace. This Afterword discloses some relevant information about her professional and academic circle which she drew on for her novel. They included an antique and now art dealer called Peter London; painter Alistair Stein who is now head of the Central New Town Residents Association of Edinburgh as related in local news articles about the current spate of brass thefts from salubrious houses; a Dr David Stevenson of Edinburgh University and member of the Parapsychology Association; an old bookshop owner called Mr Archibald Brown from a Portcullis Bookshop in the Grassmarket that no one seems to have heard of; and some others where the information is not forthcoming. The one name that opened up doors was John Calderwood Miller who loaned Byrd rare books from his collection. Miller owned a specialist Wireless and electronics shop in Edinburgh and was said to live in Musselburgh.
At this point I am still focussed on this one book and a village. After looking at some maps and taking a trip to the place for some "feel", I find there are two large old  houses out there beside a small row of mining houses. One is called Monkton and one of Byrd's books is called Lady of Monkton. It turns out that this connection is confirmed when a copy of Lady of Monkton arrives and it is dedicated to "Isobel and John Calderwood Miller the present Lady and Laird of Monkton " and the author admits to living in the cottage on the estate that is described in the book.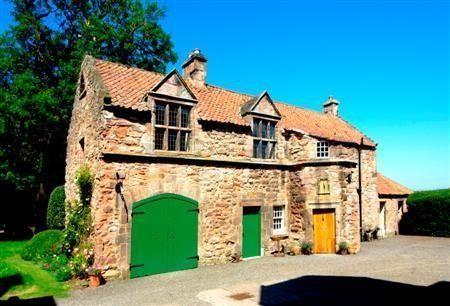 So this house in Musselburgh that John Miller is pictured in front of is Monkton House and among his rare books and old technology he had Elizabeth Byrd staying in the cottage as she fulfilled her writing ambitions based on the local history and lore of – as she puts it – "Edinburgh – the most fascinating city in the world."
Miller sold this house and his unique collection of early broadcasting items in the 1970s to the well-known collector Mr Michael Bennett-Levy whose 40 year obsession ends with bizarre house clearance according to The Scotsman newspaper.
"Bennett-Levy turns out to be as curious as some of the bizarre items that clog every spare space in the East Lothian property he bought around 30 years ago in a state of near ruin – complete with mummified cat to ward off witches – now restored, and like most of its weird and wonderful contents, up for sale, for a cool 1.4m."
Mummified cats? The house is currently for sale and according to the house sale brochure the House had an emblem from the Hays of Yester:
"Originally built as a fortified tower house, a safe house for the monks of Newbattle Abbey, it was subsequently acquired by the Hays of Yester whose winged ram's head motif is carved over massive double studded doors to the entrance courtyard in the middle of which is the "Routing Well" so called because it was said to rumble to give warnings of storms" .
From that brochure we can read that John Miller ESQ bought Monkton House from Sir Archibald Hope in 1954. Miller is described at Edinphotos as "a polymath ex-merchant navy radio officer."
Byrd herself wrote at the end of Lady of Monkton, which includes encounters with a time travelling Michael Scot The Wizard:
"Last week the lady of Monkton was pruning her roses when a stranger came by. He was wearing slacks and a sweater, a dark bearded young man whom she had never seen before.
She came forward. Sometimes tourists lost their way. "May I help you?" she asked.
He stubbed out his cigarette in the grass. "No, thank you. I was just passing by." He glanced up at the oyster shells. "So they are still here. Good."
"You've been here before?" she asked.
"Many, many years ago." he said.
Then he smiled, waved and took the long tree bordered path that led to the gates of the world."